Welcome to Year 2
Our teacher in Year 2 is Miss Stokes. Our Teaching Assistant is the lovely Mrs Broadbent. We do lots of fun, exciting things in Year 2 which incorporate all aspects of the curriculum. Please look on our blog to see what we have been doing.
We also have our own Learning Wall - see link below. We use the resources on the Wall to research out topics and curriculum work in school. Please use these resources at home to further develop your child's learning.
For Your Information
Year 2 Maths Overview
Year 2 SATs Information
Expectations
Structure of the Tests
Information for Parents
Year 2 Curriculum Overview
Our Topic
Our Topic this half term is 'South Africa'. Throughout this topic we will be exploring how South Africa is different and similar to where we live. We will be looking at lots of exciting aspects of life in South Africa, including animals, landscapes, clothing and daily life. The highlight of our Topic will be our trip to Chester Zoo, where we will get the opportunity to see some of the animals and learn all about them.
Our Class Novel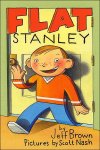 We are reading Flat Stanley by Jeff Brown. Try and look out for other books written by this author and bring them into class (there are lots of other Flat Stanley Adventures out there). Are all the books written by this author fictional? Can you find any books by this author at our school library? Have you read any other books by this author?
Our Chosen Reading Scheme
Over the years, Oxford Reading Tree has taught millions of children to read... and to love to read. Rooted in reading for pleasure and with systematic phonics at its heart, its well-loved characters, breadth and unrivalled support give children everything they need to become confident readers. There are over 800 books which provide a rich and varied choice of writing styles, genres and artwork styles at every level.
Our Chosen Phonics Scheme
Phonics International is a highly-organised, systematic and yet flexible synthetic phonics programme especially designed for all ages and needs and suitable for anyone who wants to learn to read and spell.